Mulch fabric: Environmentally friendly and highly effective against weeds
Extra-strong weed control fabric from Gutta prevents the growth of stubborn weeds such as horsetail, couch grass, common bindweed and ground elder. The mulch film consists of water- and air-permeable spun-bonded fabrics made exclusively from virgin material. In contrast to using recycling goods, which may contain impurities that can be washed out over time when they come into contact with the ground, pure polypropylene is chemically neutral and does not release pollutants into the soil.
Weed protection is also environmentally friendly, requiring no additional herbicides. Gutta's mulch film prevents most weeds and grasses from growing in the first place, while at the same time ensuring that the soil can breathe and is permeable to water, nutrients and air. This ensures the healthy growth of your plants, all without weeds. The secret to the film's efficacy is its special material: With a grammage of 125 g/sm, mulch film from Gutta is the strongest weed control fabric in our product range, providing a highly effective and environmentally friendly solution even for stubborn weed growth.
Lay mulch fabric and protect your beds from weeds
The chemically neutral non-woven material transports water, air and nutrients to the roots while preventing weed growth efficiently and effectively, all without using any chemical weed killers. Yet another advantage of the material is its versatility: You can use the mulch film with or without mulch cover. Its brown surface gives the product a natural look. In case of use without cover, the mulch film is guaranteed for up to four years. This makes it a perfect solution for a sustainable, highly efficient and environmentally friendly method for controlling weed growth in numerous areas:
parks and facilities
embankments and slopes
pond shores
border areas with widespread weed growth
walkways
Lay mulch fleece easily
Mulch fleece is easy to lay and requires no special expertise. It is very light, making even large rolls easy to handle.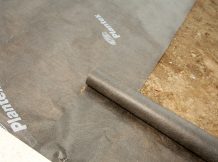 Step 1:
Clean the ground and roll out the fleece. For adjacent lanes, ensure at least 10 cm overlap. Fix or bury the edges and end of the roll with pins.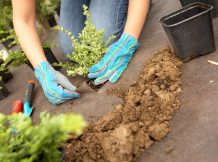 Step 2:
Cut an X-shaped opening at the planting site with a pair of scissors or a knife and seed new plants. For existing beds, gently tug any growing plants through the opening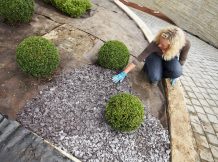 Step 3:
Cover the mulch film with about 5 cm bark mulch, wood shavings or gravel. Note: Mulch film must be covered, but reduces the amount of required cover material substantially.