Effective against weeds – even in your rock garden!
Environmentally friendly, no herbicides required: Gutta's Plantex rock garden fleece prevents most weeds and grasses from growing in the first place, while ensuring at the same time that the soil can breathe and is permeable to water, nutrients and air. This ensures the healthy growth of your plants, all without weeds. The secret to the fleece's efficacy is its special material: Gutta rock garden fleece is a highly effective and environmentally friendly solution for controlling normal weed growth. For growth of stubborn weeds such as field horsetail, couch grass, common bindweed and ground elder we recommend the strongest fleece in our product range, our mulch film.
Promote plant growth, stop weed growth
Used by many landscape architects, Gutta's rock garden fleece allows water, air and nutrients to travel directly to the roots of your plants while also stopping weeds, thereby promoting the healthy growth of your garden Covered with enough decorative gravel or split, Gutta's rock garden fleece is guaranteed for 20 years.
Easy to lay, and with lasting effects
Gutta's water- and air-permeable weed control fabric is easy to lay, highly durable and versatile in use. Among other things, it is an excellent choice for
rock gardens
walkways
playgrounds
terraces
gravel borders
and much more
No additional chemical weed killers are required when using the rock garden fleece. The fleece is also chemically neutral.
Installing rock garden fleece is easy
Rock garden fleece is easy to lay and requires no special expertise. It is very light, making even large rolls easy to handle.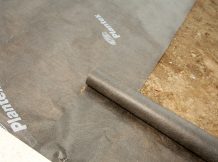 Step 1:
Clean the ground and roll out the fleece. For adjacent lanes, ensure at least 10 cm overlap. Fix or bury the edges and end of the roll with pins.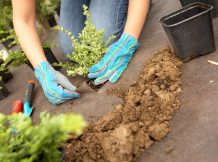 Step 2:
Cut an X-shaped opening at the planting site with a pair of scissors or a knife and seed new plants. For existing beds, gently tug any growing plants through the opening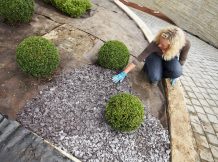 Step 3:
Cover the rock garden fleece with about 5 cm split or decorative gravel. Note: The fleece must be covered, but reduces the amount of required cover material substantially.