Hedges without proliferating weeds – Gutta hedge fabric makes it possible
Uncontrolled weed growth can visually deface even the most beautiful hedge. With Plantex hedge fleece and a 5 cm thick layer of mulch, this problem can be solved on a lasting basis. Create a chic look without herbicides, and rest assured that you are using a tough and long-lasting material. Once the fleece is laid, you can say goodbye to weed growth around your hedges.
Hedge fabric: maximum weed protection without herbicides
Gutta hedge fleece is a specially tailored weed control fleece designed to prevent uncontrolled weed growth around existing hedges or new plantings. The result is healthier young hedges and a significant decrease in the proportion of "dead" seedlings. The fleece is especially suitable for narrow and long beds. It is permeable to water, air and nutrients and thus promotes the growth of your hedges – all without allowing bothersome weeds to spread. This allows soil to "breathe", creating ideal growth conditions for hedges and living fences.
Foster healthy plants with Gutta hedge fabric
Used by many landscape architects, Gutta's fleece stops weeds and promotes your garden's health. At the same time, the hedge fleece helps the ground retain the necessary moisture and heat, giving you healthy and vigorously growing hedges.
Laying hedge fabric is easy
The fleece is easy to lay and requires no special expertise. It is very light, making even large rolls easy to handle.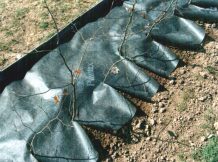 Step 1:
First, roll out the Plantex hedge fleece on one side of the hedge and cut it with scissors at the height of the trunks, about 10 to 15 cm.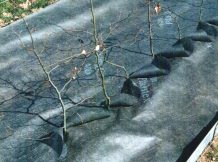 Step 2:
Repeat the same on the other side of the hedge, overlapping the two fleece edges at the foot of the hedge. If necessary, bury the outer edges of the two hedge fleece sheets.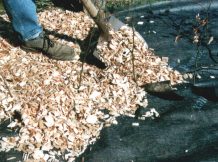 Step 3:
Cover Plantex hedge fleece with 5 cm bark mulch, gravel, wood chips, or similar cover.